&nbsp

&nbsp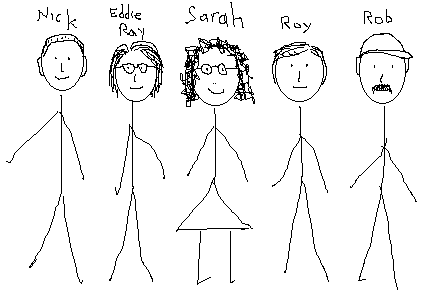 Aftershox is a classic rock band from Southern California's land of aftershocks. Do you worry about the Big One? Yes? Well, it won't do you any good. Let Aftershox take your mind off earthquakes and back onto worthwhile rockin' and rollin'. Yes, trust us. You should come hear us play as soon as possible. We will make everything alright.

If you need a good, solid rockin' band for your party or event, you should hire us. Aftershox will make sure that your good time meets and exceeds the requirements of the State of California.

We consider our playlist to be an important part of what makes us special. Yeah, we play the popular stuff that most covers bands do, but we also do the not-so-usual covers. Some of our favorite artists include Bad Company, Bonnie Raitt, Tom Petty and the Heartbreakers, Robert Palmer, Eagles, Glenn Frey, Sheryl Crow, ZZ Top, AC/DC, Van Morrison, Linda Ronstandt...

Wanna get on our e-mail list?
We'll send you an occasional e-mail about upcoming gigs.
Name:
E-mail address:
Our list is not traded or sold!
This The LA Music Scene site owned by Ed Smith.
[ Previous 5 Sites | Previous | Next | Next5 Sites | Random Site | List Sites ]